Lichen News
August 2012: Verrucaria species in the Solent
The Hampshire coast is soft and dominated by mud, with hard substrates confined to concrete coastal structures and flint pebbles. It is therefore has very limited maritime lichen communities due to the lack of stable acid rock. A few species can occur in shelter locations where flint pebbles in the intertidal zone do not move much. The best known site is on the sheltered side of Hurst Spit, where several species occur in hollows in the shingle beach which are flooded by high tides. I had noted that
Verrucaria
species could be found on occasional flints within the low marsh salt marsh communities and on mudflats elsewhere but had not looked at these in detail.
A job monitoring salt marshes in the Solent and Sussex provided an opportunity to collect some of these in passing with interesting results. The job included a visit to Hurst Spit, with a monitoring quadrat including pebbles within a Sea Purslane
Artiplex portulacoides
salt marsh on the shingle. The pebbles here were dominated by
Verrucaria
maura
and
Lecanora
actophila
, in what was their only known sites listed in the 1996 Hampshire Flora.
Verrucaria mucosa
and
Lecania hutchinsiae
have also been recorded from their only Hampshire sites here. During the 2012 survey,
Verrucaria
maura
was also recorded from flints set in concrete on a crumbling sea wall at Shoreham Harbour, Sussex (TQ21 047) (there was an old record from the 10km square) and this species should looked for on any acid rock about the high tide line on the south east coast. More interesting were
Verrucaria
species picked up on flints in sheltered stable conditions lower down on the shore.
At Cams Bay, Portsmouth Harbour (SU5931 0534), I spotted flints with a thin uncracked brown thallus with distinctive minute black dark dots and irregular ridges between the perithecia in shingle within broken up
Spartina
marsh. The spore size confirmed this as
Verrucaria ditmarsica
; a nationally scarce species recorded sporadically around Britain's coast (
distribution
) which has already noted as occurring in estuarine conditions. It had previously been recorded from Pagham Harbour in Sussex but was new for Hampshire. A second find was made the next day along the shore of the MOD Fleetlands – Bedenham facility, either side of Foxbury Point (SU59 04) (no public access). The
Verrucaria
here were growing on flints in low marsh situations in quite damp conditions. I thought this might be more
Verrucaria ditmarsica
, but it lacked the black dots, while the perithecia projecting from the brown subgelatinous thallus ruled out
Verrucaria mucosa
. The spore sized and these features indicated
Verrucaria halizoa
, which was much more of a surprise. The Lichens of Great Britain and Ireland gives the habitat as "crevices and shade on rocks on the sea shore" and does not mention estuaries. There are a few soft coast records from East Anglia but none from the south east coast until this record (
distribution
). This habitat clearly needs more attention.
There is also likely to be further unrecorded lichen interest on shingle above the tideline; John Norton has recently found
Amandinea lecideina
and
Catillaria atomarioides
at Browndown beach (
Hampshire Flora Group News
).
Neil Sanderson 23/8/12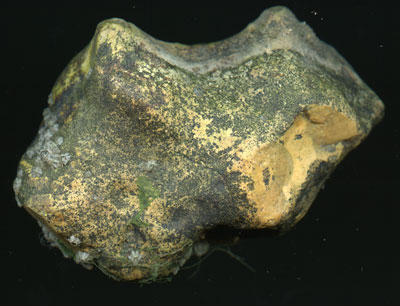 Cams Bay,
Verrucaria ditmarsica
, general view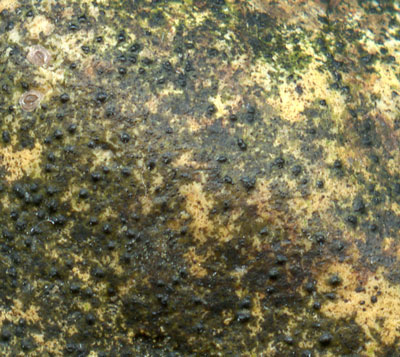 Cams Bay,
Verrucaria ditmarsica
, closer view, showing the minute black dark dots and irregular ridges between the perithecia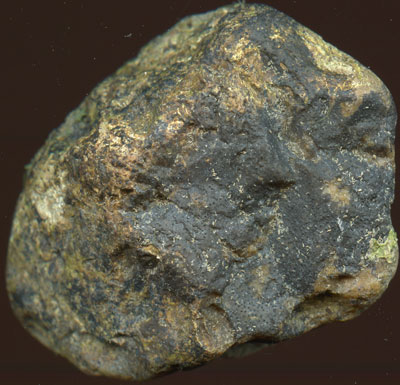 Foxbury Point,
Verrucaria halizoa,
general view, dry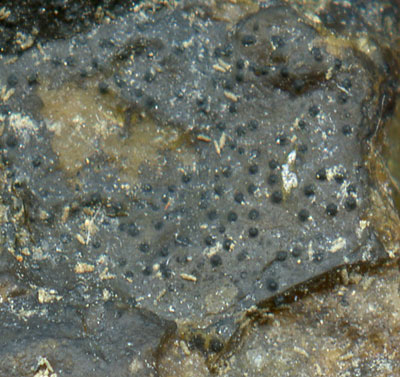 Foxbury Point,
Verrucaria halizoa
, closer view, damp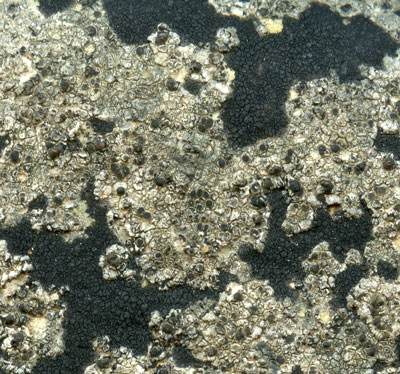 Hurst Point,
Lecanora actophila
(pale) &
Verrucaria maura
(black)